Mississippi didn't want to let it's wood go. Thousands of pounds of white oak was stacked in my Penske moving truck. It had been hewn in the Magnolia state, first for use as a county barn and now milled into ¾" flooring for our new house.
We decided to tear the barn down because it was in bad shape after being hit by at least one tornado in recent years. So it was fitting that tornados were touching down around me as I drove out of the state.
The music on the radio was frequently interrupted by the blurg-blurg-blurg wails of the Emergency Broadcast System followed by the news that – basically everywhere –was under a tornado watch. Softball sized hail was in the forecast. Great flashes of lightning ripped across the sky, striking frequent enough to read by it's light.
An hour into my drive I pulled over in a small town to double-check my lights and tire pressure. The sudden wail of a tornado siren made me rethink my decision to stop but without a breath of wind, I had to choose: take cover or press on.
I kept driving.
Forty minutes later, the radio announced a twister touched down just east of where I had stopped.
It was an ominous beginning to a long cross-country drive that would take six days and cover over 3,000 miles.
When you're on a long haul, some bad things are bound to happen. You can also expect some wonderful things. You just hope that the disasters aren't too disastrous.
With day one in the books, it seems like I'd dodged a big bullet.
Dad is My Copilot
My father (bless his heart) volunteered to make the long drive with me. I was joining him in Little Rock, AR so while my first leg was solo (and pretty stressful), I was glad for the companionship.
As I learned that first night, boredom isn't your only enemy. It easy to freak yourself out. In spite of myself, I kept imagined the truck drifting onto the shoulder and cart wheeling into a fiery ball.
"Away bad thoughts! Away!"
With dad along, I was able to distract myself. But more than that, the hours behind the wheel allowed us to spend the kind of time together that we hadn't done since traveling in South America back in 2006.
Lock yourself in a car with a parent for days on end, and you're bound to cover some pretty deep subjects. You get the time to sit in silence for hours without forcing the topics and you can let the big conversations happen naturally.
By the time we'd driven 500 miles, we had completely covered the recent election, caught up on family news and delved into religion. Dad chronicled his faith journey in ways I'd never heard before. When the road got really boring, he kept me awake with sea stories from his days aboard nuclear submarines in the 1960's.
By nightfall we were still plowing ahead pushing to cover between 500-600 miles per day to beat a winter storm headed for the west coast.
Day number 3 started with a cult pop-art installation. Cadillac Ranch was built by hippies in the 1970's in a cow pasture outside Amarillo, TX. The angle of the caddies is the same as the pyramids in Egypt and over the years the cars have been covered with inches of spray paint making them an ever-changing art form.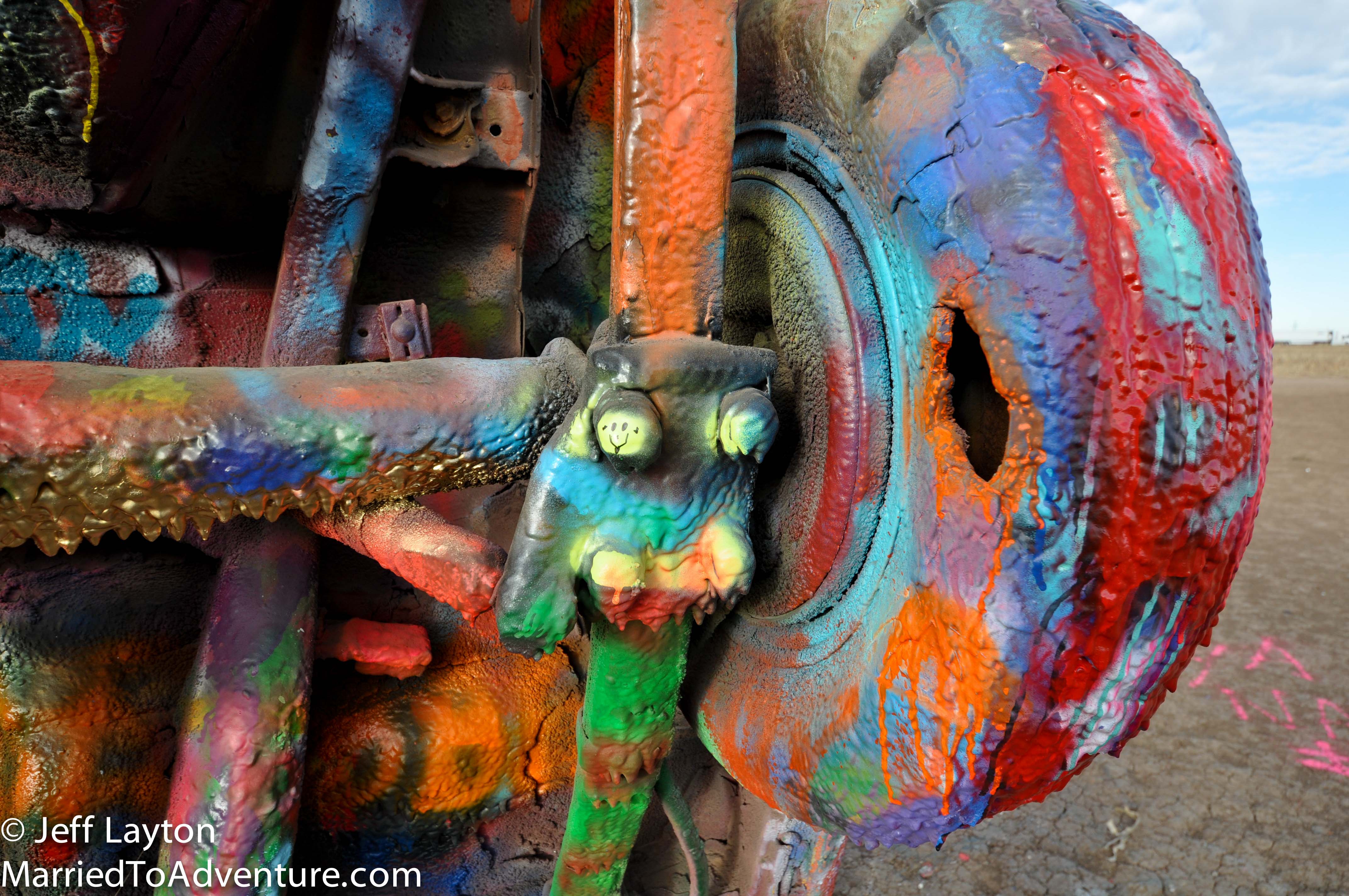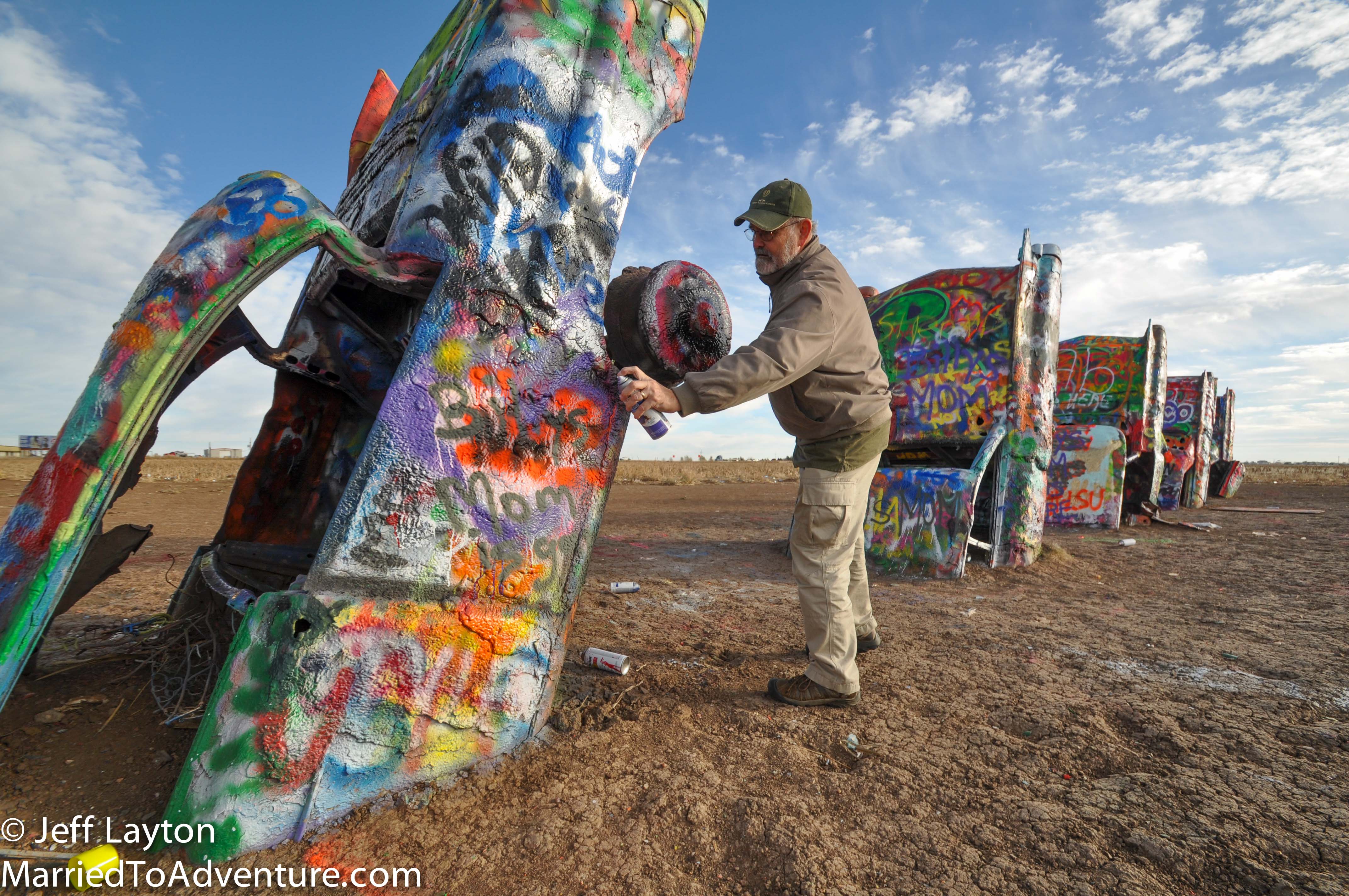 Disaster!
Our day was clicking along beautifully until we stopped for lunch in Albuquerque. When we started up again, and drove a few blocks: clunk-clunk-clunk. The truck died. Blocking a freeway onramp. Right before rush hour.
Getting a huge truck towed to the shop is never a good thing. But in retrospect, it couldn't have happened at a better time. By chance, we were only 7 miles from the Penske service center hub – the only one in the entire state!
Turns out our fuel pump had gone out (not from the wrong kind of gas as the technician first suspected) and in under 4 hours we were fixed and back on the road again. We even managed to cover the remaining 300 miles to keep on schedule.
When we considered all the remote places we could have floundered, we dodged another huge bullet.
KA-BOOM!
Early the next morning, we played tourist and stopped in Arizona at the best-preserved meteor impact crater on the planet. I'd seen photos of this site since I was in grade school, so a visit was a real treat (also right off the freeway).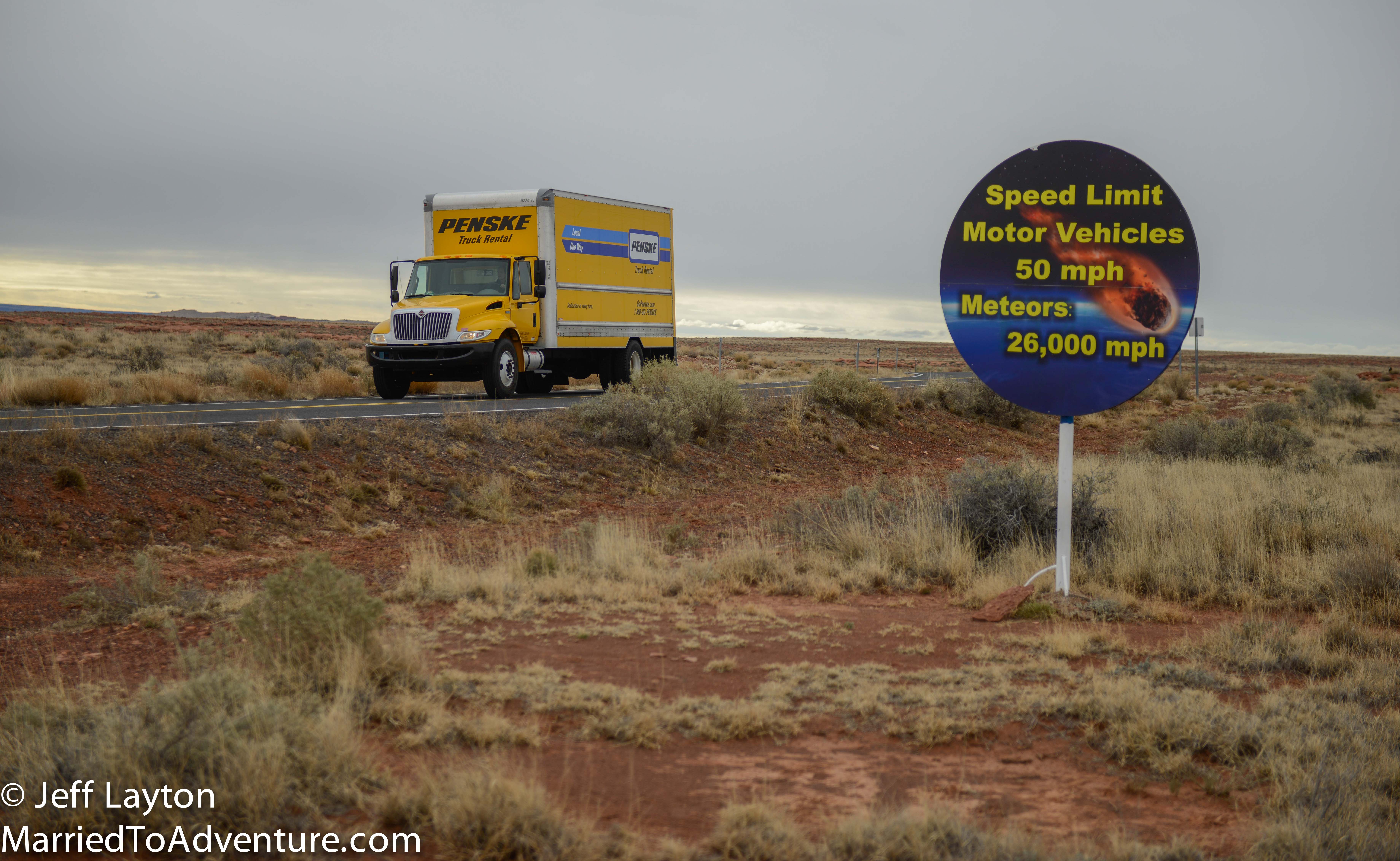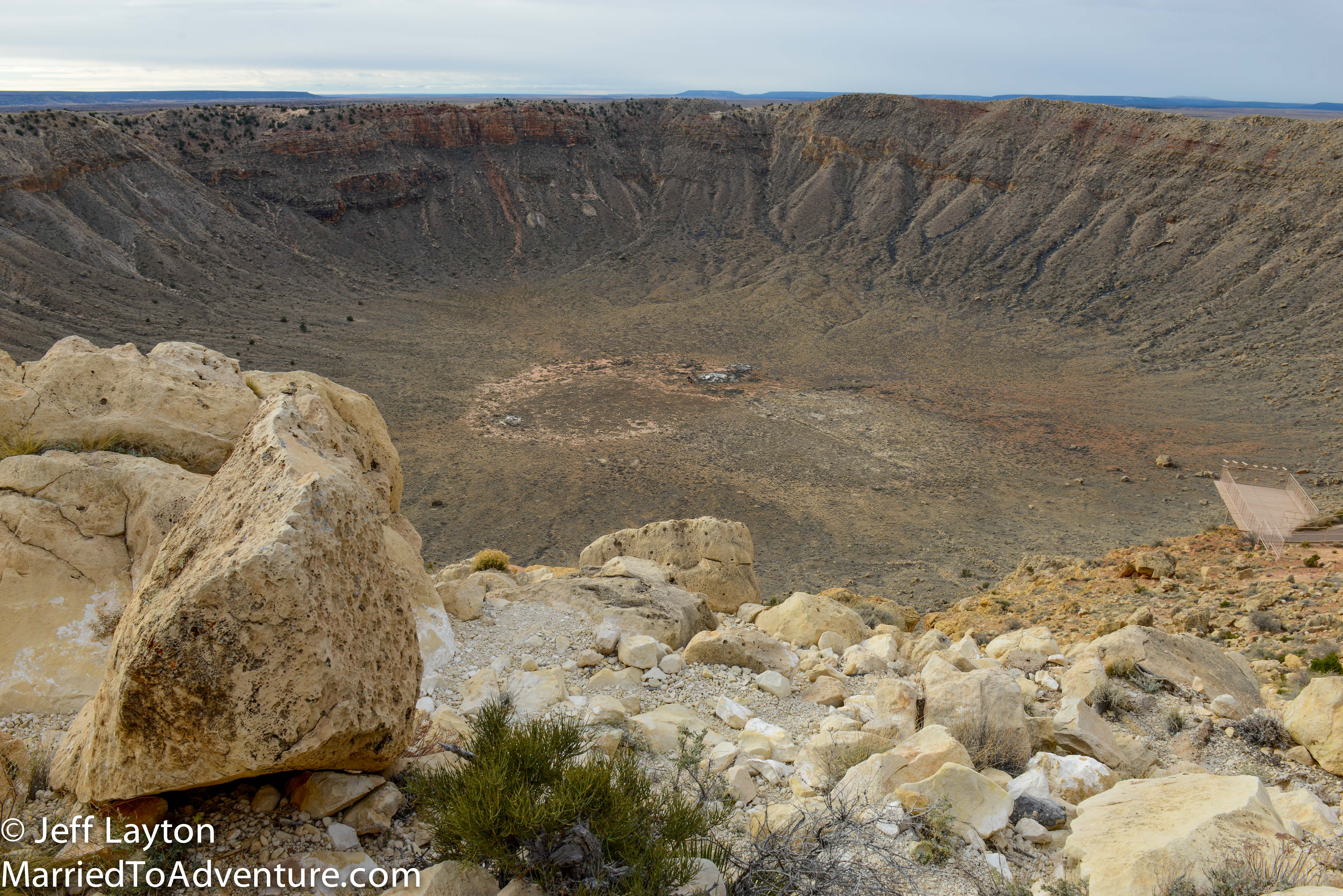 When the meteor hit the earth it caused a crater 1 mile across forming an amphitheater in the desert that could hold a million people.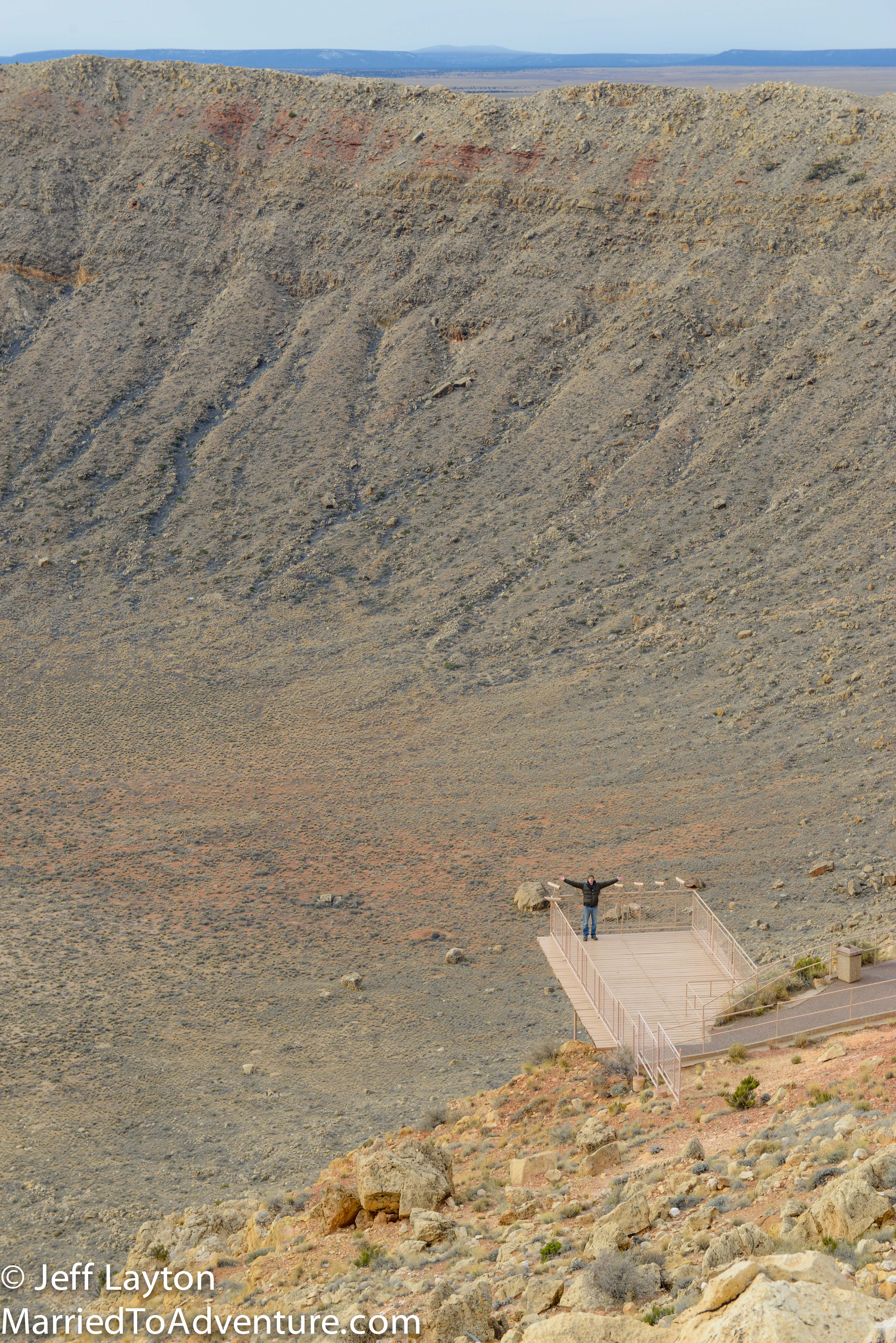 The meteor itself basically disintegrated upon impact except for this hunk of material which rang like metal when you touched it. How often can you say that you felt something from outer space on your cross-country drive?
Takin' It Easy
We spent the night in Winslow, Arizona. All day long I'd had the Eagles' song rolling through my head, so we had to do the obligatory, "Standing on the corner in Winslow Arizona" photo.
At times we picked up old sections of the old Route 66 one of the nation's first cross country highways nicknamed "The Mother Road."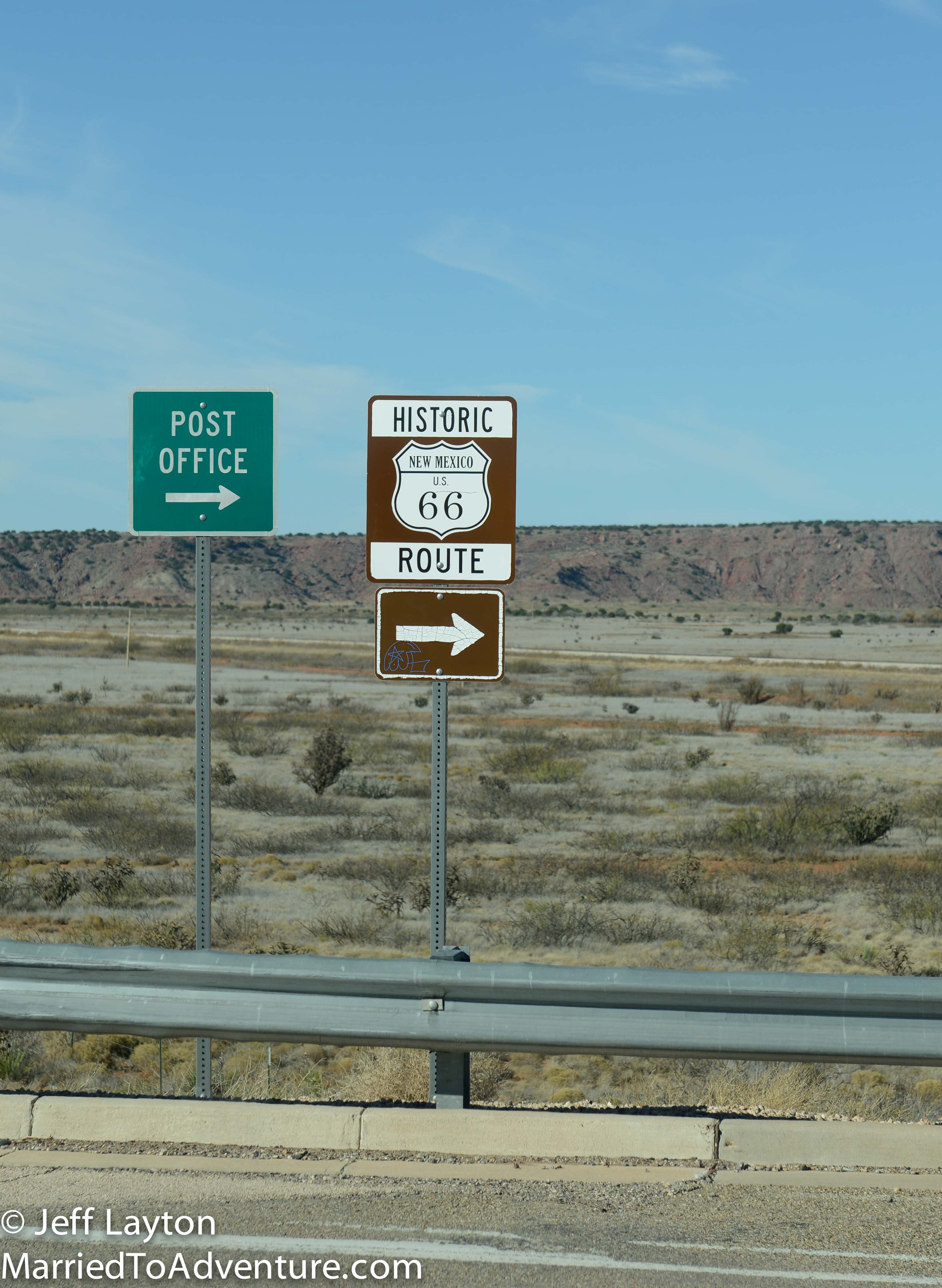 Through Flagstaff we had our first flurries of snow. With the temps in the 20's it was the light stuff that didn't stick to the roads and we made it over the hills without any issue. Another disaster avoided.
Remote – Like, Really Remote
We'd chosen a southern route across the country to avoid big snowstorms in the Plains and Rockies. It added some time, but (hopefully) saved on sliding into a ditch somewhere in Colorado.
After 4 days of basically driving due West, we finally made the turn North in Las Vegas and drove into the remote Nevada desert.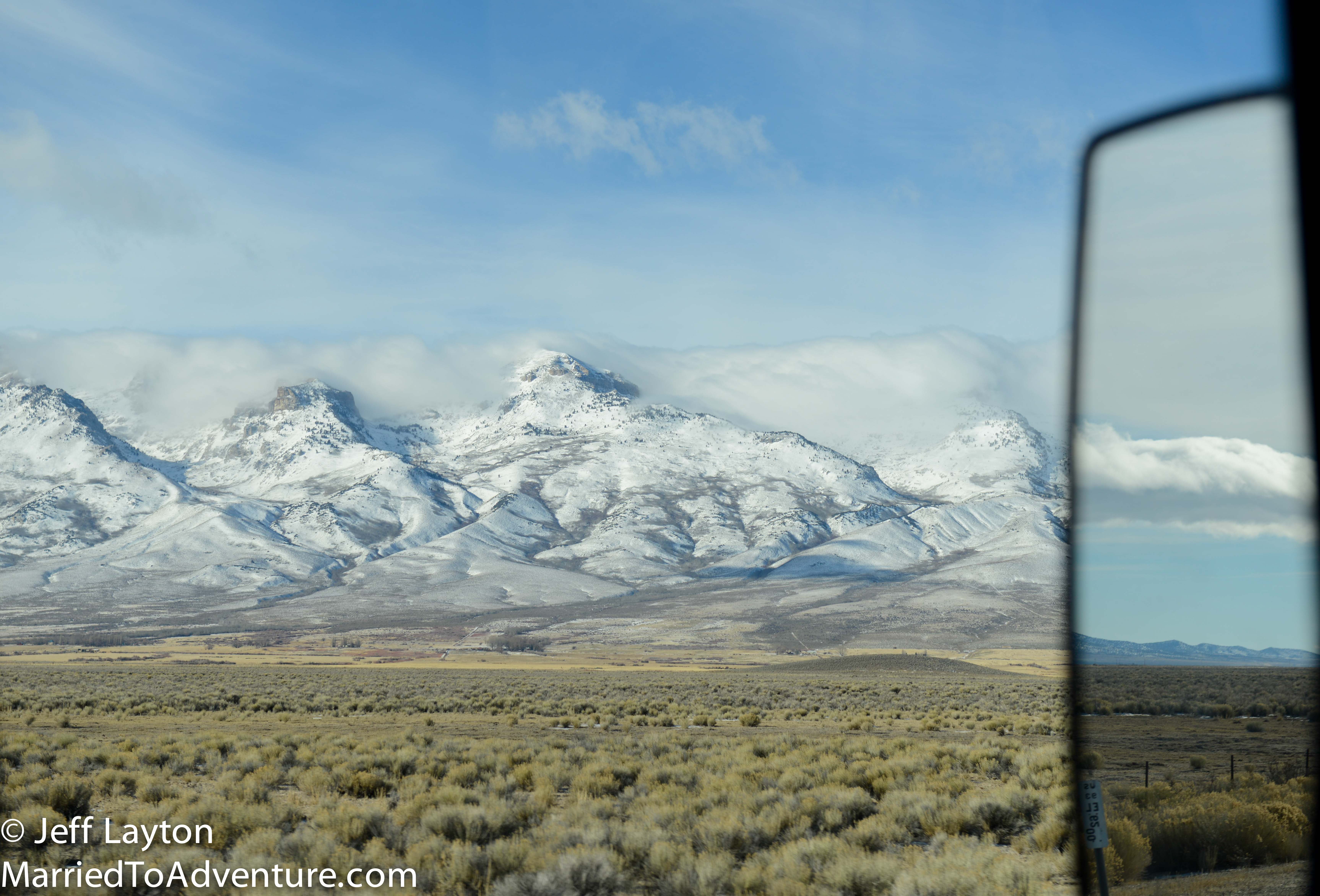 There's a little-known route called the Great Basin Highway that winds among mountain ranges while staying low enough to remain snow-free. Problem is, it's 2-lane highway that sees light traffic and even fewer gas stations. Cell phone reception is sketchy. At one point we saw a sign that said, "Next service 130 miles." Needless to say we were desperately hoping to avoid another breakdown on this stretch.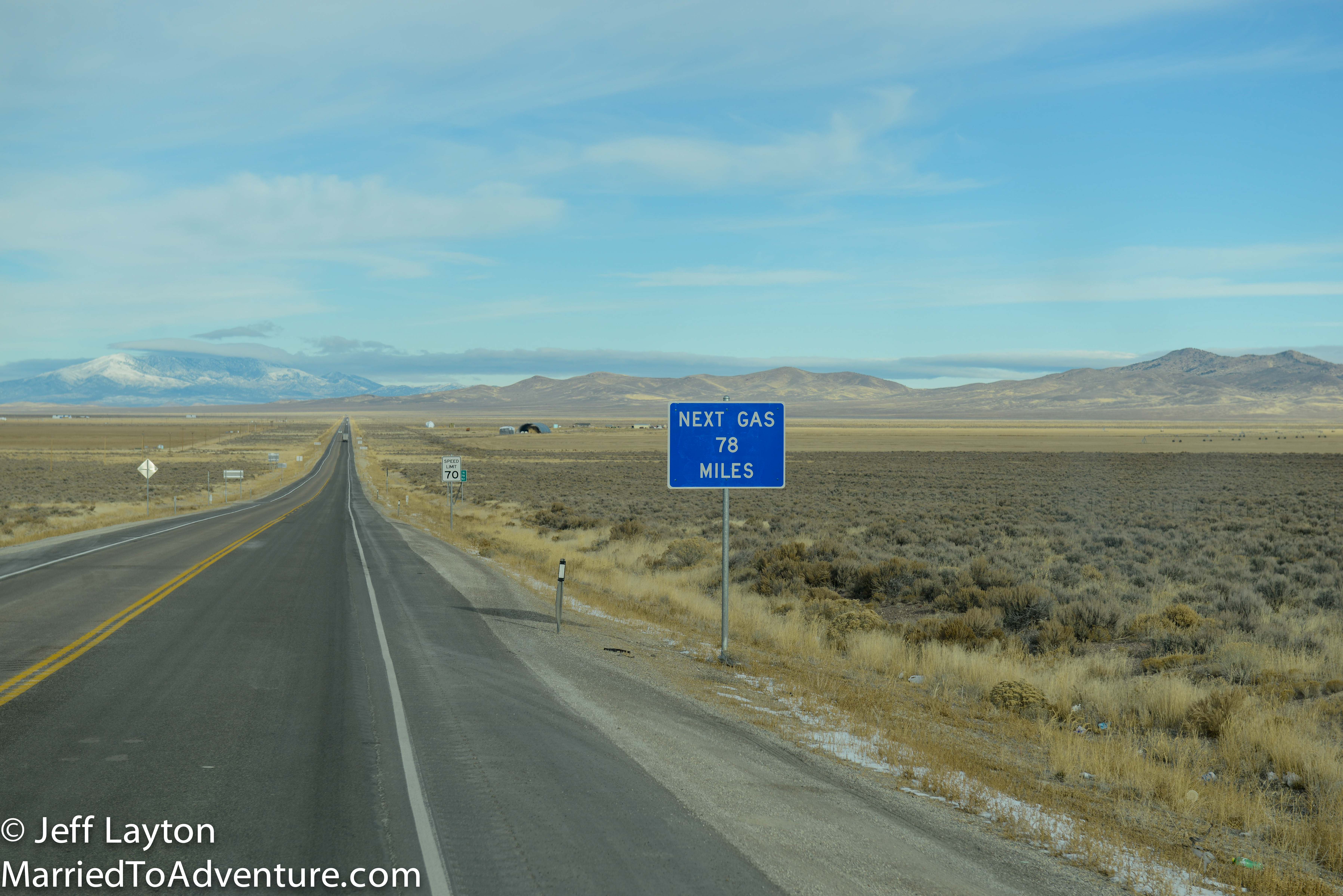 I love remote harsh places on the planet. Freezing cold in the winter and blazing hot in the summer, those that live in this part of Nevada survive in a truly extreme environment.
The scenery is spectacular – by far the most enjoyable part of our drive. Mysterious snowy mountains bookended both sides of a wide basin and there was almost no traffic or power lines to ruin the view.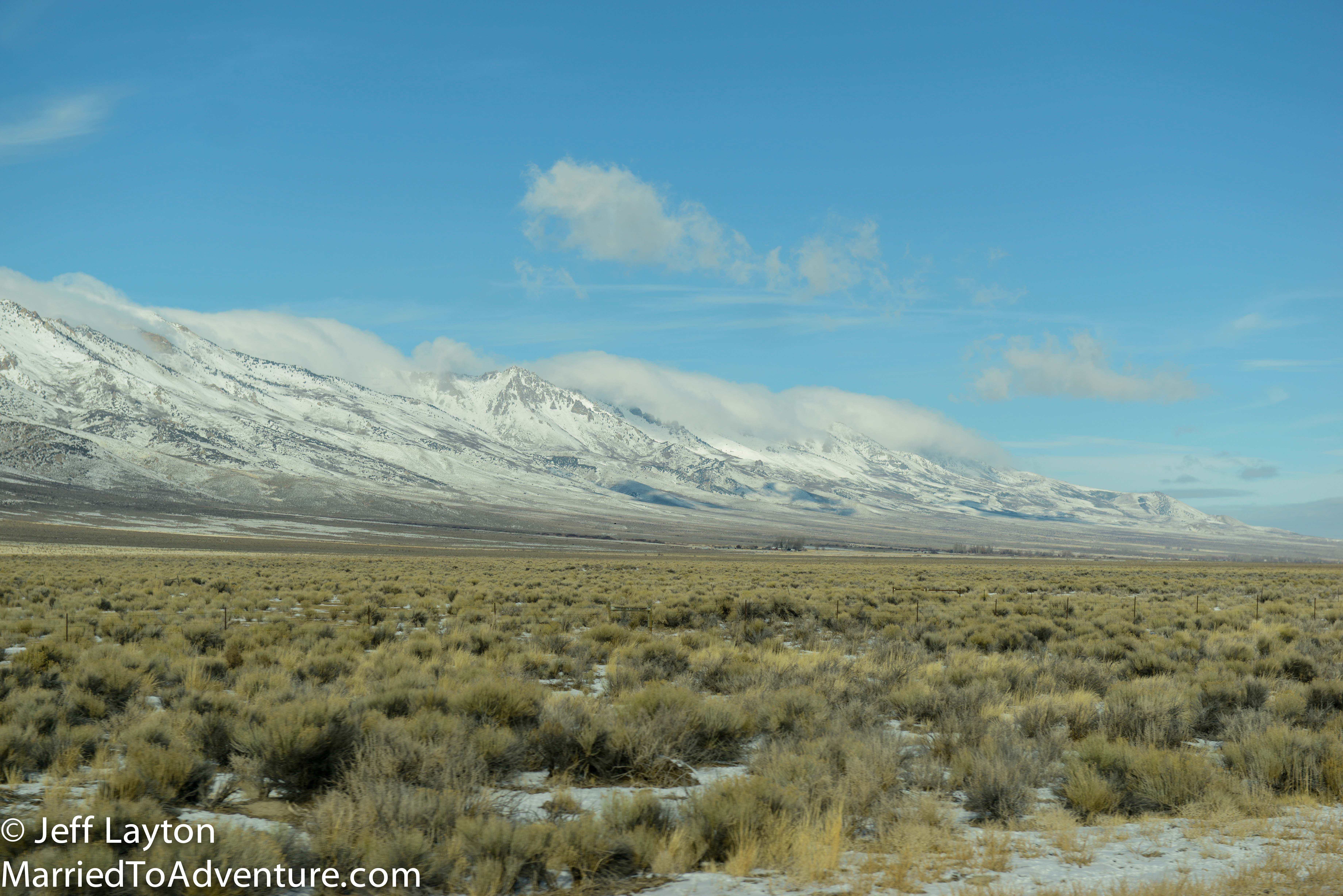 Home at Last, and Another Breakdown
We rolled into home by mid day. With fresh snow on the ground, the final ten miles were the most dangerous but also the most beautiful. I made it up the driveway (barely) and parked the Penske for the night. But the next morning, the truck started up again and then died – just like it did in New Mexico.
They sent a technician out to fix it, but no luck. Eventually they had to tow the sucker out of there.
While it sucked to get the big rig moved around with a wrecker, it beat trying to drive it down our snowy driveway. Breaking down in the driveway sure beat getting stuck in the desert somewhere!