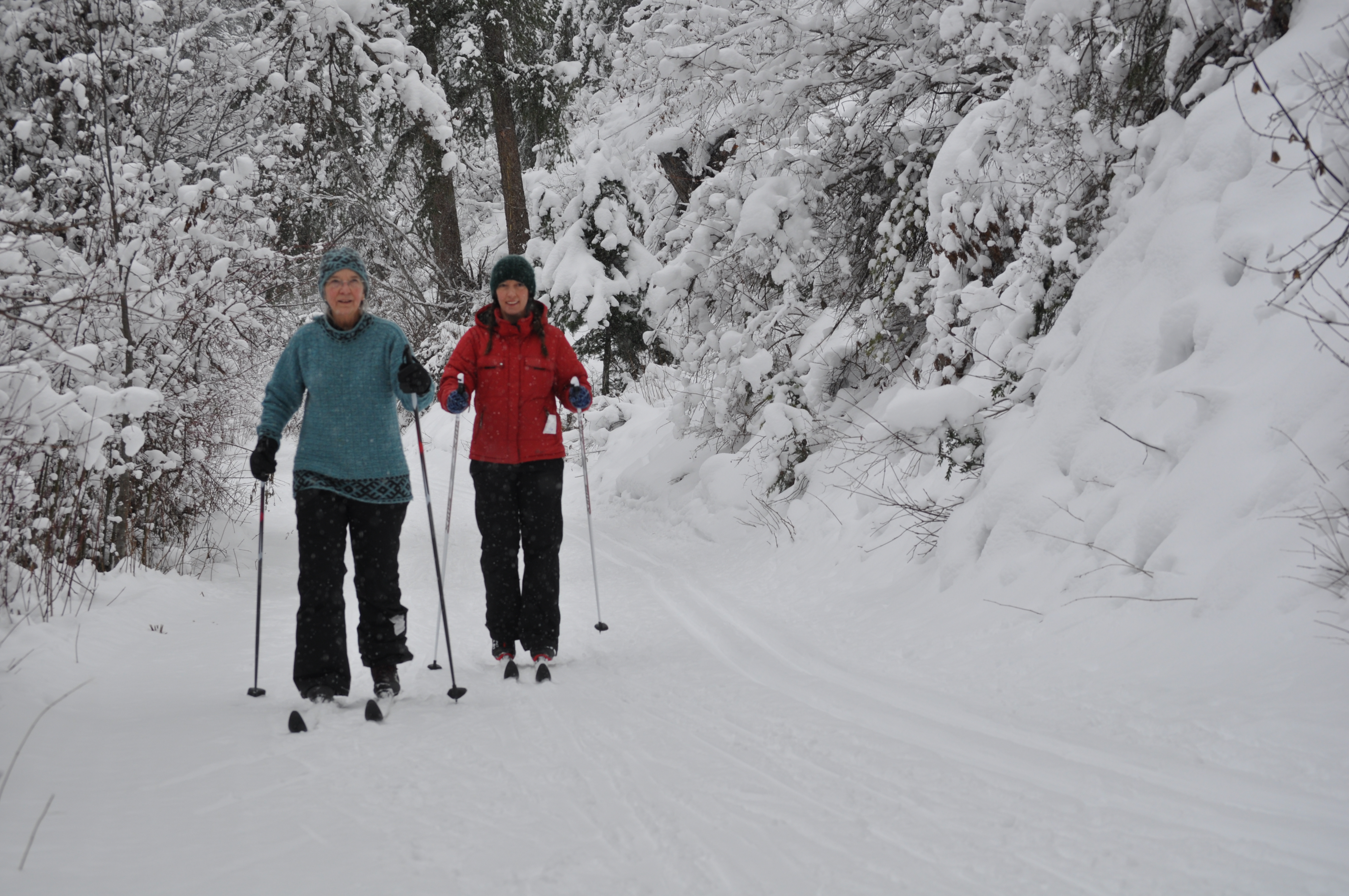 At last our house is finished, and we can take a deep breath, look around and enjoy our surroundings.
With the holidays in the rear view mirror and the family cleared out, we've been spending the past few weeks diving headlong into a snowy embankment of winter.
Ski Plain
One of our favorite features about our new hometown of Plain, WA is the network of cross-country ski trails winding through the valley. Plain Hardware has run the 24-km trails the past few years and they recently got a new groomer to lay down some sweet corduroy and grooved tracks.
There are a few new loops in the trail system and several times per week, we explore different parts of the trail. Some days it's quaint farmland, sometimes it's open meadow, some trails cruise among a forest of Douglas Firs and Ponderosa Pines. Both Amanda and Jeff are at that fun spot in the learning curve where we improve and tweak our technique with every outing.
On weekends Plain Hardware opened up a lodge at one end of the trail where skiers can get warm or rent out equipment. We got 3-year-old Ian up on a tiny pair of skis for his first outing of his life. He skied two laps (thanks in part to M&M's rewards along the way).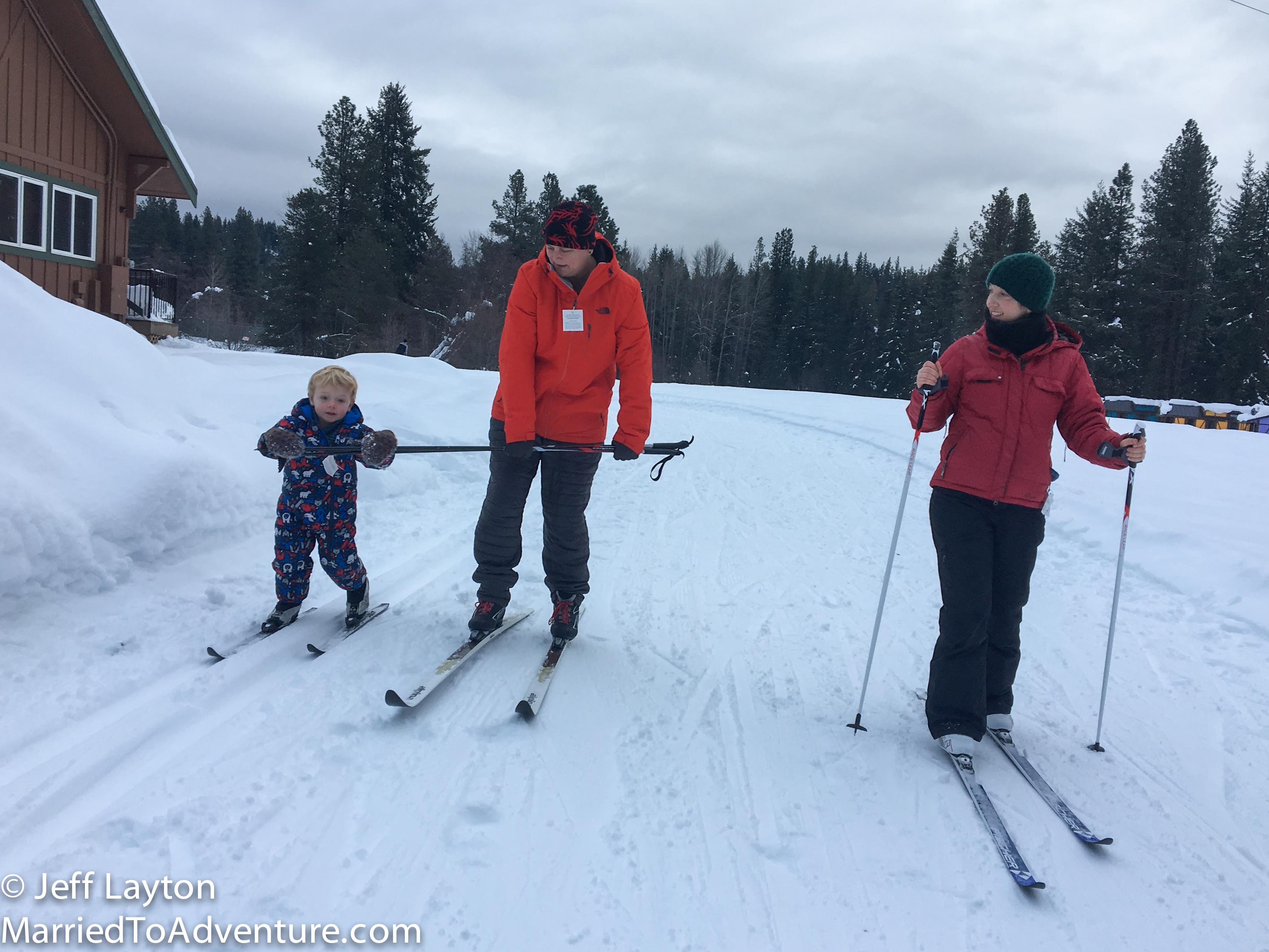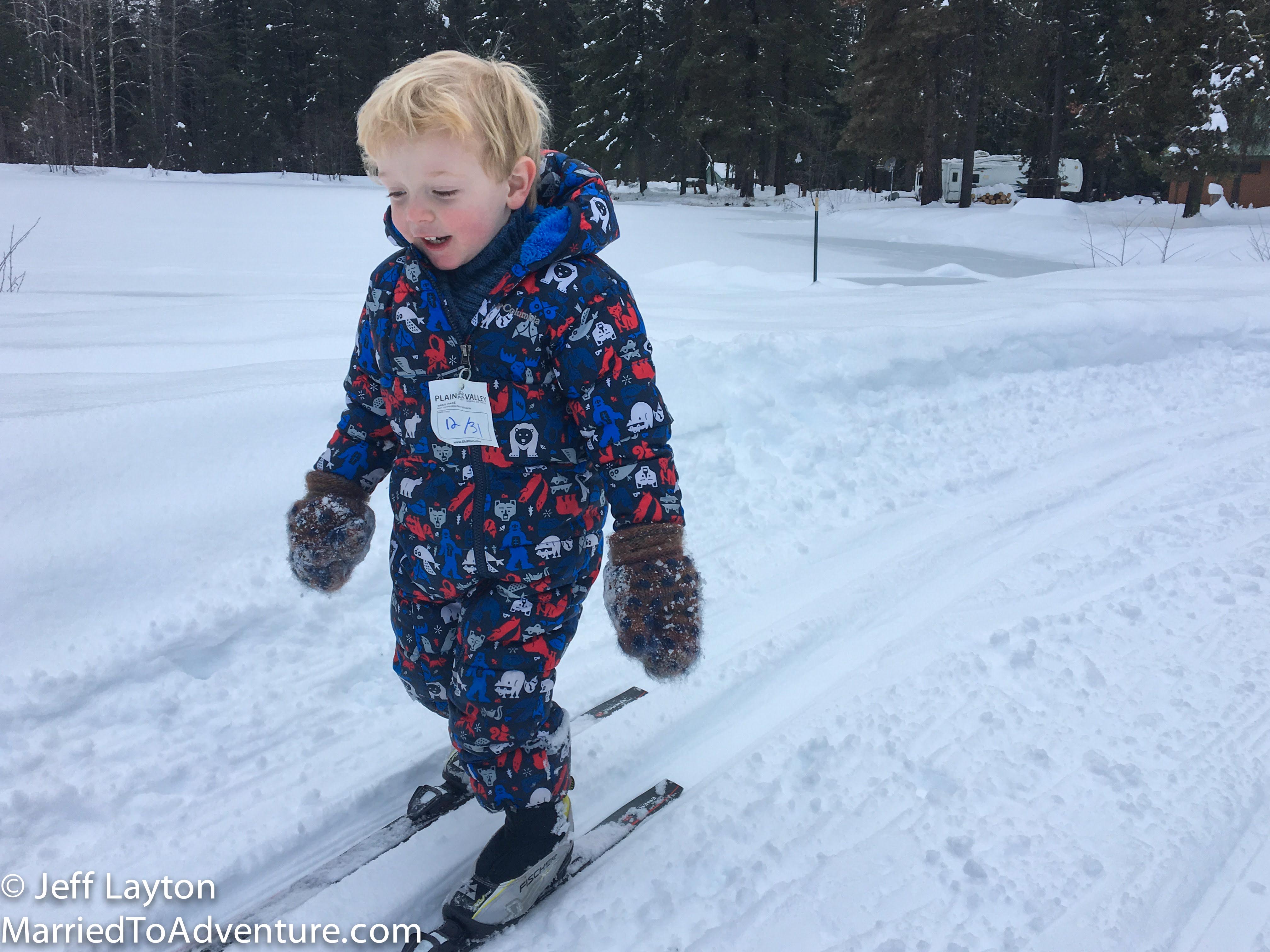 As we were leaving, Ian asked if we remembered to pack his skis. When we told him they were rentals and we had to leave them behind, he cried and said, "…but I want to ski again!"
Parent victory.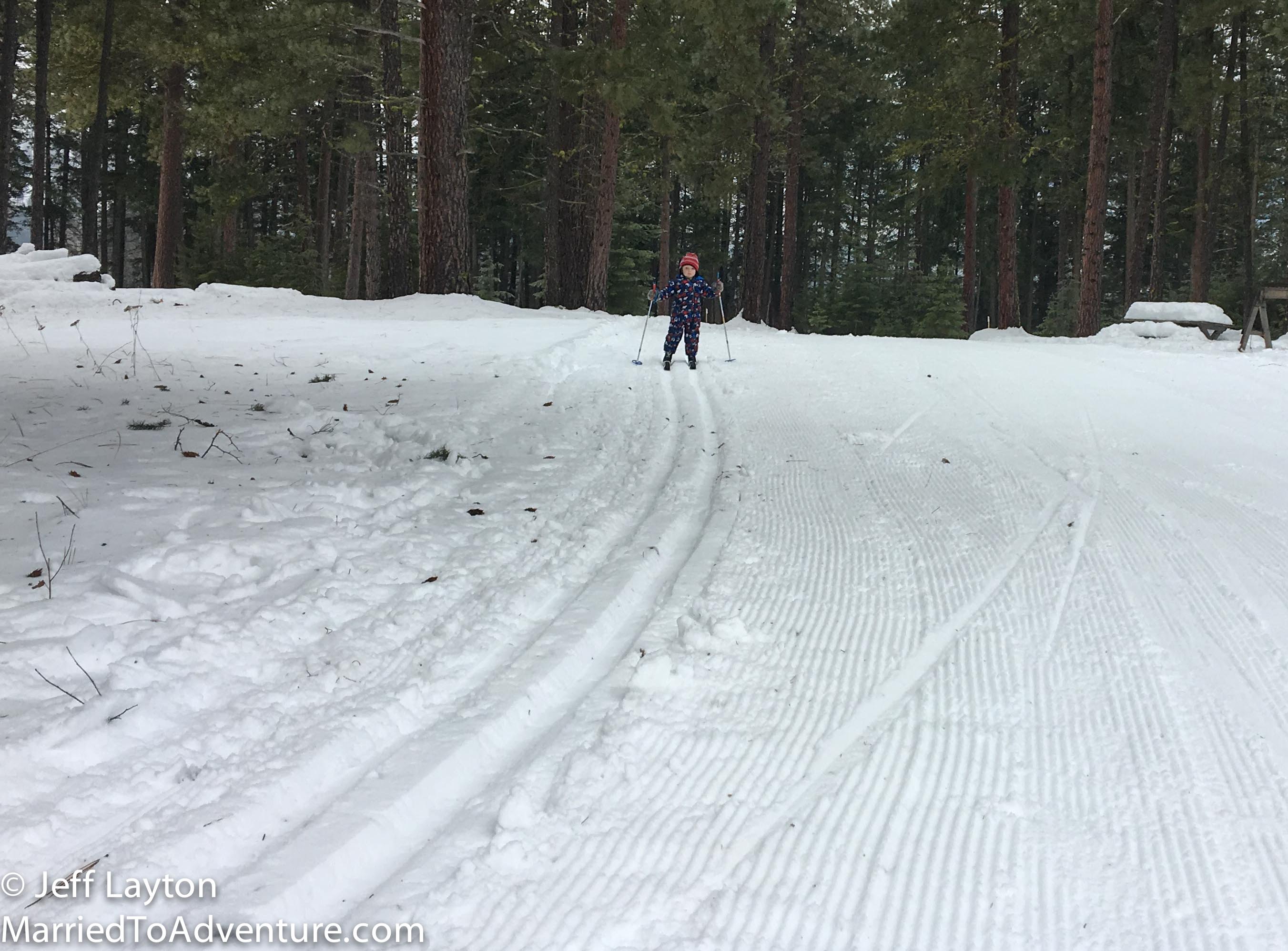 Skiing the Canal
Just outside our front door, an irrigation canal runs about 1 ¼ miles and when the snow is right, it's an incredibly fun jaunt. Also a bit hair raising – if you fall you can tumble down an embankment or get stuck in the ditch.
Most people are familiar with the two main styles of XC skiing: classic and skate ski. But there's a lesser-known third style, which is more of an all-terrain or backcountry XC skiing.
Jeff embraced this style last season when he bought his XC skis, going with metal edges which not only help on steep downhill, but also allows for all terrain sledding.
Groomed courses are fun and fast but there's nothing like cutting new trails through heavy powder and being rewarded with fresh animal tracks and undisturbed open meadows. It's also really good for balance.
Cutting New Snowshoe Trails
For two years Jeff has been talking about opening up the National Forest behind Osprey Acres to snowshoe and ski trails.
That's no small undertaking since there are downed trees and impassable sections of vine maple everywhere. Plus there is the foot+ of snow to deal with.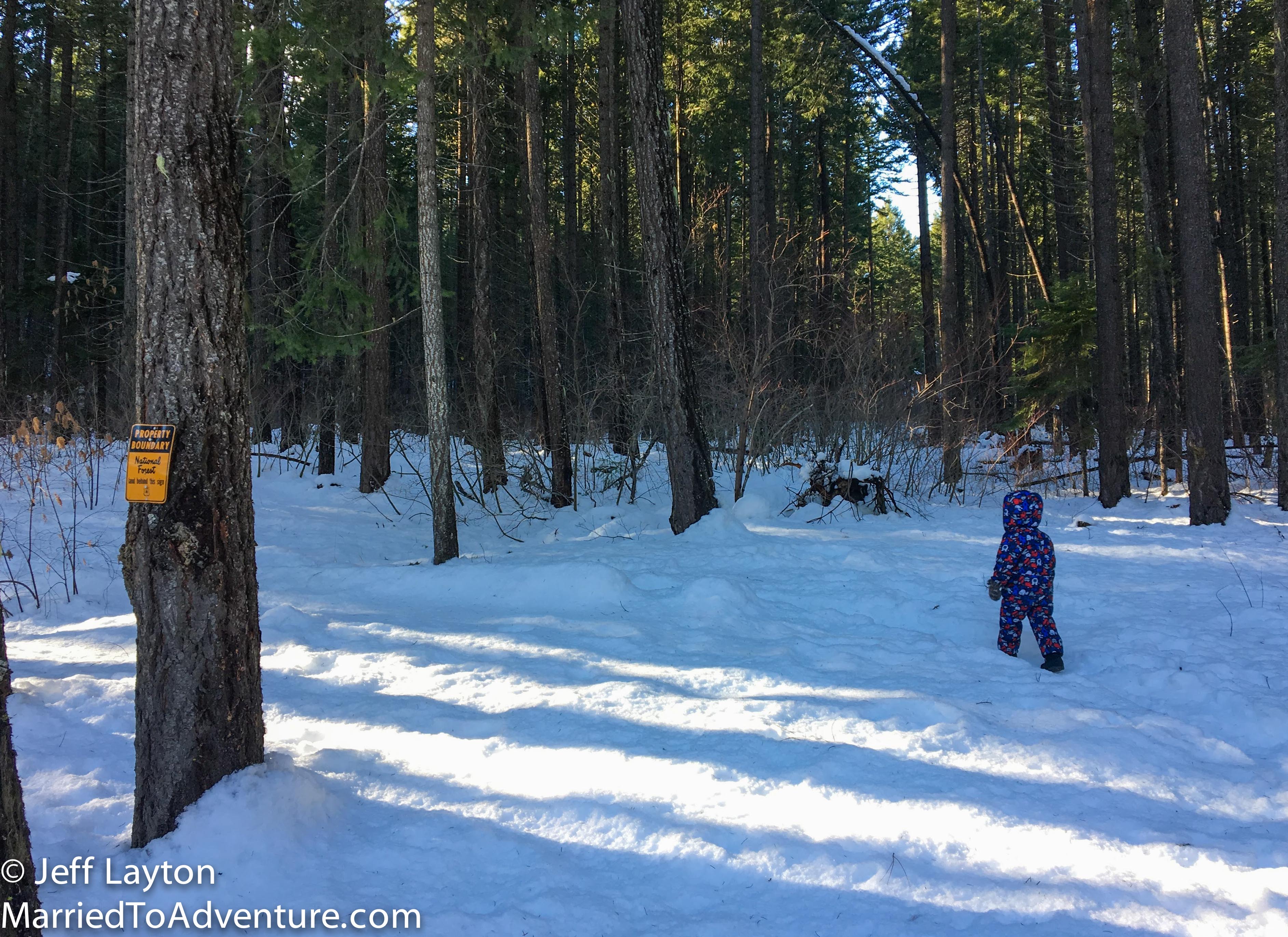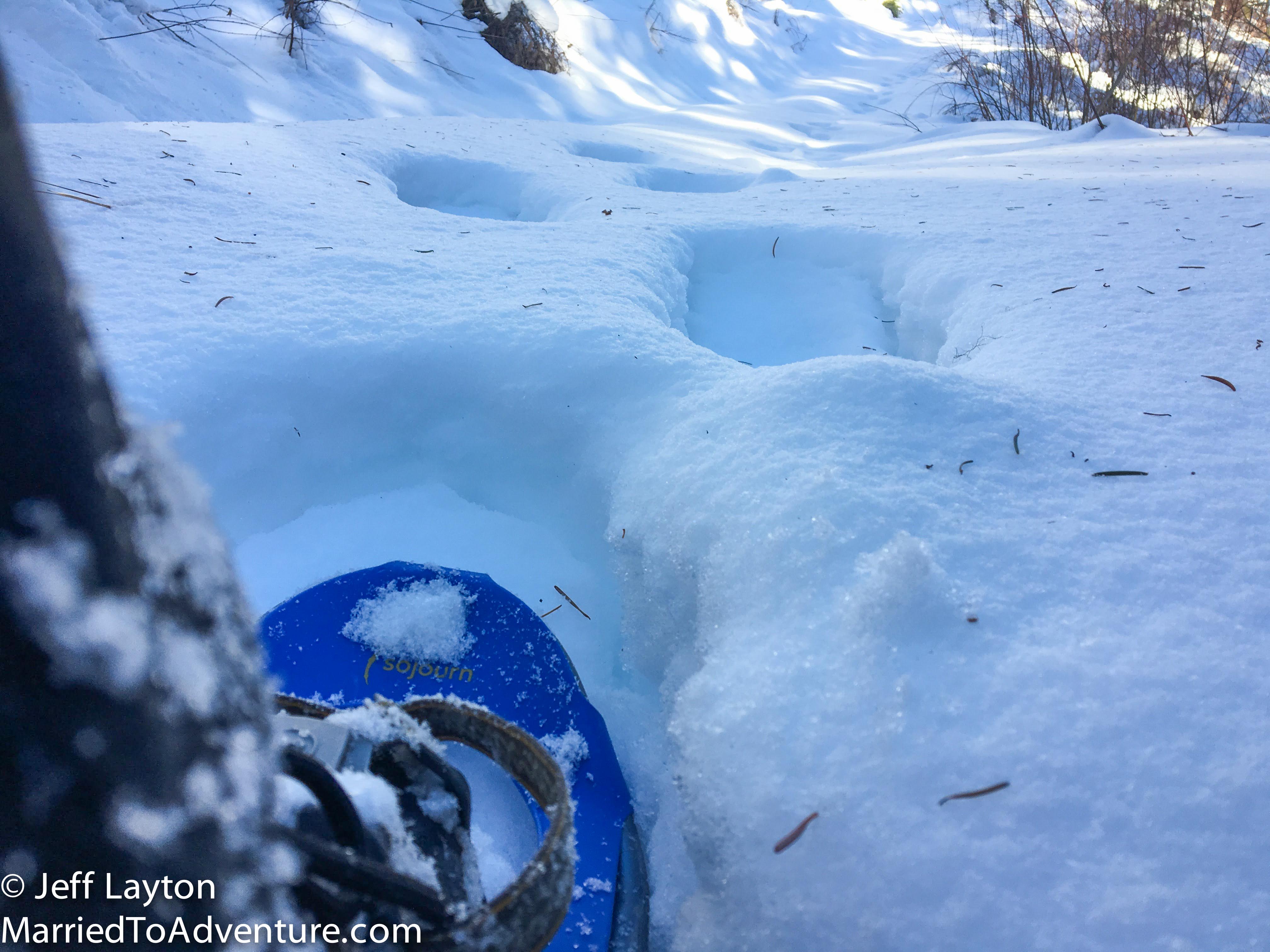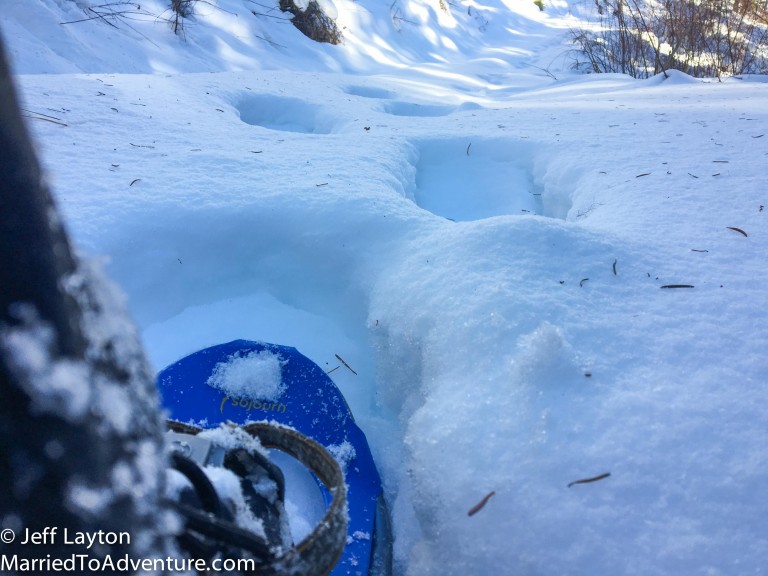 After the holidays we finally took the chainsaw and brush cutters out for a walk and began flagging routes with colored ribbon. As of today, we have officially opened three snowshoe loops that depart from our doorstep – in total about 2 miles.
The shortest loop is even clear enough to ski (although it's a challenge). When the snow melts this summer we will probably go through and smooth over a few rough spots, add permanent flags and straighten some bends to create some nice gliding lanes.
For now, the trails remain a good snowshoe workout for those of us who work from home (and live miles from a gym). Ian has been learning the new routes and trying to remember the landmarks, which are the closest thing he has to a backyard.