There's a pretty good chance that I'm the first person to ever ski this little chute in the Wenatchee National Forest. In any case, I'm claiming the naming rights.
Henceforth, this run will be known as The Teepee Parachute.
The name stems from the teepee structure that someone built along a ridge near Osprey Acres and it's an homage to Parachutes 1 and 2 at Stevens Pass. When I was a young skier taking weekly lessons at The Pass, The Parachutes were the runs I always told myself: when you can conquer them, you'll be an expert skier.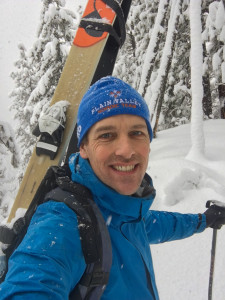 Fast forward a few decades, and I'm really glad I pushed myself to learn how to navigate steep technical terrain. Because now it's clear that there are endless ski opportunities in nature just waiting to be skied.
As the economy booms and resorts are packed with skiers and boarders, I'm finding it's more enjoyable to search out ways to avoid the masses and revel in the solitude of the mountains.  Backcountry skiing (both XC and Alpine) have been my sport de jour this winter.
I found this chute when Ian and I were out snowshoeing together last week.  After a leg burning climb up a narrow ridge, the run drops straight down a tight straightaway before mellowing out at near bottom, allowing you to float and bouncing through the forest.
It's a lot of work (backcountry skiing is known for "earn your turns").  After about 2 runs my legs were pretty well shot. But the challenge of finding and getting to a first descent is half the fun.  I also won't downplay the nervous thrill of knowing that if you mess up, some very bad things could happen to you.  But when you soar down untouched fields of deep powder, there's really nothing more enjoyable in all the world.
Since I'm not really into mountaineering, I will probably never achieve any first ascents of note, but there are still plenty of firsts to be found in back country skiing – primarily because there's lots of terrain out there and not many people do it.
But scouting steep open areas and bombing through them just might become my new favorite hobby.