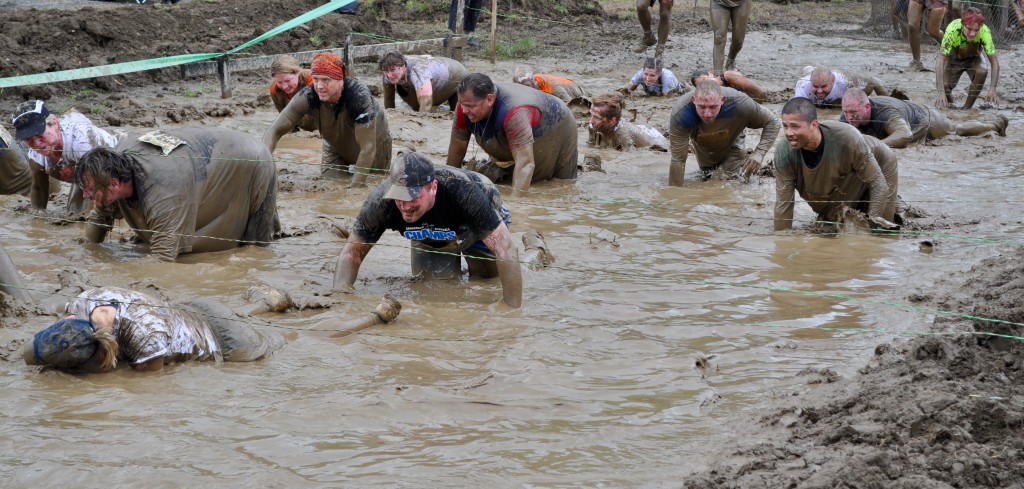 The results are in.  And they are filthy.
This weekend we took part in the Seattle version of the Survivor Mud Run – a brand of endurance race that includes squirming through obstacles, scaling slippery walls and yes, face down in the mud.
Mud races vary in their intensity.  This one was moderate, and obstacles were difficult enough to be fun, but not so hard that a reasonably fit person couldn't do all or most of them.
The 5K course traversed Remlinger farms in Carnation, WA and while we were worried about the "running" part of it, we found that people tended to bunch up around the 22 obstacles, so there was plenty of time to catch your breath.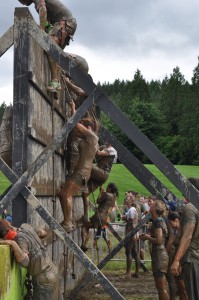 The hands down favorite in our group were the inflatable waterslide and a series of rolling mounds called Doomsday Hills that made you crawl up one side and slide into pools of sludge on the other.  The most difficult for people seemed to be the monkey bars or a series of 5-foot walls you had to hurdle.  Some were easy – like crossing a balance beam or walking in a river.  Others were more difficult, like low-crawling through a pipe.  Usually, plunging knee-deep into goo was followed by climbing over something.
In all more than 4,000 people took part in the event.  Heats departed throughout the day, which was meant to keep wait time at the obstacles at a minimum.  Our 10:45 departure immediately following a 30-minute downpour, so there was no lack of mud on the course, to the point where even the staging area was a veritable bog.
If you really cared, you could look up your time later with an RFID online interface.  But that's not really the point.  The reason you join a mud race is to rediscover the child-like fun in wallowing.  For an afternoon you get to join thousands of other desk jockeys who shed their collective hang-ups about unsanitary conditions, and give their bodies (as well as their immune systems) a solid workout.
We are already making plans for next year, so stay tuned!