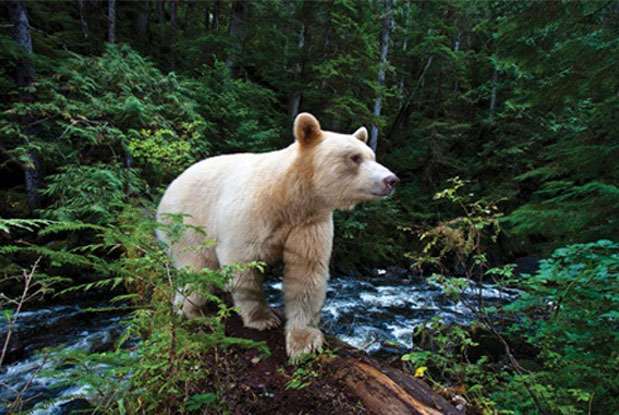 We don't often post about locations we haven't spent time in, but we're going to make an exception for the Great Bear Rainforest.  In the past year, this place has floated to the very top of our bucket list.
Never heard of it?  You're not alone.
Just north of Vancouver Island on the Canadian mainland is a very strange place indeed. In fact, it's fair to say there's no other place like it on the planet.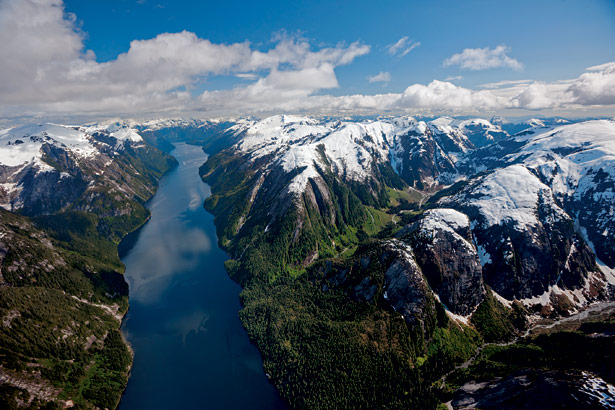 If you were to build it from scratch, you would need: 1. Fjords from Norway, 2. Glacial cliffs from Yosemite 3. Temperate rainforest from the Hoh and 4. White spirit bears from Narnia.
That's right, spirit bears, also known as Kermode.  A rare genetic recessive gene in the black bears living in the region cause a small number (around 1 in 10) to have stark blonde fur like a polar bear. The natives never hunted them, and never told early trappers of their existence.  But bears aren't the only critters worth watching out for.  The area is crawling with moose, wolves, whales and pine martins. And the salmon… gargantuan.
The Great Bear Rainforest is enormous and one of the largest tracts of old growth temperate rainforests remaining in the world – some cedar trees are estimated to be over 1,000 years old.  There are very few roads into the region which has helped keep the timber industry at bay and the patchwork of protected areas have been loudly defended by Canada's First Nations People.  Recently there has been talk about building a tar sands pipeline terminal in Great Bear, although the environmental impacts would be devastating.
If you happen to be on one of the Alaska State Ferries or B.C. ferries cruising the inside passage on your way to Alaska, you'll pass the Great Bear (although as we learned this summer, it's hard to know where protected areas begin or end).  Visitors typically enter the region by small boat and explore the long fjords, hot springs and hiking trails by kayak and Zodiac.
Companies like Maple Leaf Adventures, Blue Water Adventures and Westwind Tugboat Adventures offer boat-based trips (typically 6-10 days).  Fly-in fishing lodges like Grizzly Bear Lodge & Safari and King Pacific Lodge also offer excursions into the region.
The rainforest is thick, so your chances of seeing a spirit bear on a hike are slim, and the best time of year to visit is spring and early fall when the salmon are running and bears can be seen fishing in the streams and rivers.